Worldwide, maxon has more than 2500 employees; production sites in Switzerland, Germany, Hungary, South Korea and the United States; and sales companies in more than 30 countries.
Numerous companies from various industries count on maxon's precision drive systems for their mission-critical applications. Our drive systems can be found wherever precision and reliability are top priority, such as in:
Medical technology
Industrial automation and robotics
Measuring and testing technology
Communication
Security technology
Automotive industry
Aerospace
Consumer applications
A perfect drive solution in a few easy steps

DC brushed and brushless motors configurable online and ships in 11 days.
Now even stronger, more efficient and with more combination options: There are new additions to the maxon family of X drive products. Several long and short versions of brushed DC motors (DCX), with higher torques and more power, have been added to the product range along with matching planetary gearheads.

In addition, maxon's brushless DC motor (ECX) line is also available with a larger variety of diameters, achieving speeds of up to 120,000 rpm. They run very smoothly and are highly efficient in standard or sterilizable versions (up to 2,000 autoclave cycles). Ideal for use in hand-held surgical tools and industrial spindles.

maxon's X drives are extremely powerful and are easily configured online. Customers can fit the drives with specific mechanical and electrical components specific to their application needs. It is possible to customize the shaft lengths, winding types, ball bearings and much more. When combined together with maxon encoders and planetary gearheads, you form a high-precision, robust drive system ideal for any application from aerospace to medical to robotics. In fact anywhere that requires a compact, powerful, quiet and strong drive system. In addition, detailed product data may be viewed immediately online and 3D CAD data for the configuration is available for downloading.
drive.tech - A site for technology enthusiasts
drive.tech is filled with stories about robots, Mars vehicles, and electro-mechanical prostheses. You can find blogs about energy efficiency in drives, selecting a suitable motor, and current trends. Readers are kept up to date on the latest developments in drive technology and are able to share their favorite articles with friends. Come and see for yourself! https://drive.tech/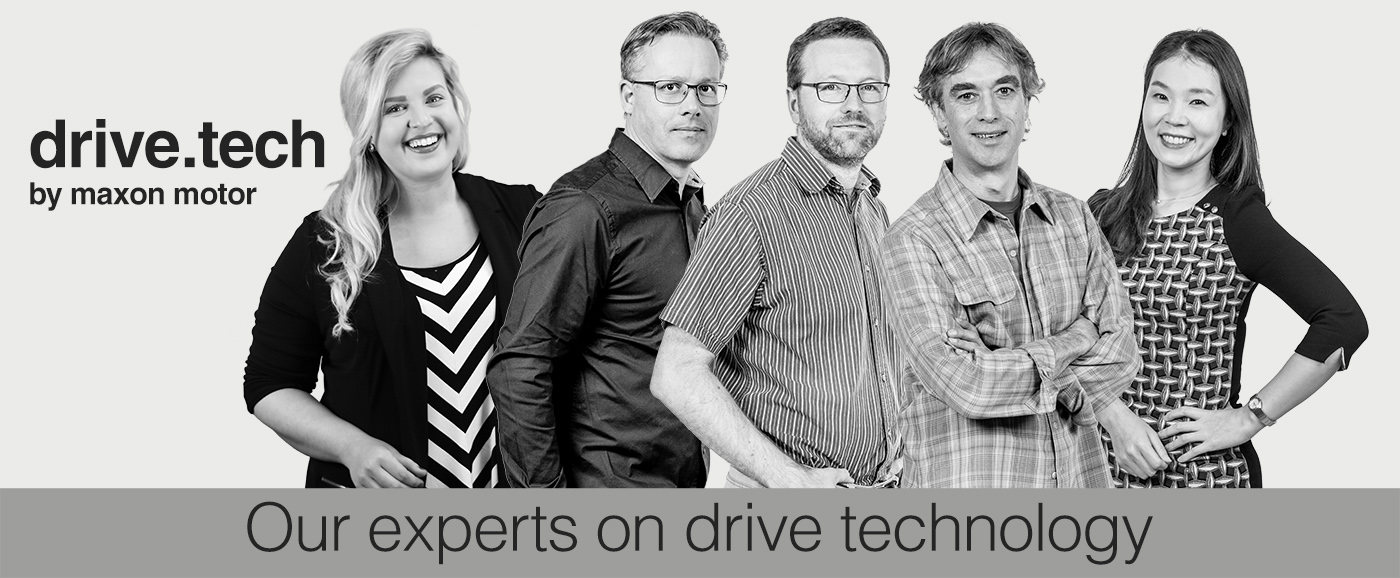 [views] => 1520 [published] => 1 [status] => 3 [priority] => 6 [publish_date] => 2017-09-22 00:00:00 [updated_at] => 2019-12-10 10:01:38 [last_updated_author] => 195666 [uploaded_by] => 176413 [user_role_id] => 0 [custom_fields] => {"print_advertiser":{"print_advertiser":"Print Advertiser","value":"1"}} [custom_fields_old] => [] [splitcontent] => 1 [content_url] => [related_content_ids] => ["325782","323451","322541","321565","319903","319897","319807","319795","319791","318885","235504","132354","115792","115459"] [is_show_company_name] => [created_at] => 2019-04-09 04:36:23 [billing_address] => 9488 [mailing_address] => 9488 [display_address] => 9488 [print_description] => Discover the www.maxongroup.com At maxon, we develop and build high precision electric drive systems that are among the best in the world. We combine brushed and brushless DC motors, gearheads, sensors, and controllers into complete mechatronic drive systems. Since 1961. We are driven by progress. We are certain that we can continuously improve – even what seems to be perfect – even better. We believe that outstanding engineers and technicians can make a positive impact on the world. This is why we support them in their efforts to go off the beaten path and provide the right drives for their ideas. We do this because we share in their uncompromising drive to excel in technology. [company_private_email] => [company_public_email] => info@maxonmotorusa.com [brands] => [sales_lead] => [sales_lead_microsite] => [viewURL] => /buyersguide/profile/maxon-precision-motors-inc--185492/ )