Ranica Arrowsmith, Associate Editor
09.17.13
Holt, Mich.-based Orchid Orthopedics Inc. treats process validation at its facility as a well-oiled machine. As Laela Hampton, a validations engineer at the company, told
Medical Product Outsourcing
, "Validation is pretty much the same wherever you go." The real differences lie in what device a company is validating, and what the OEM validation requirements are for that specific device.
How much variation is acceptable in orthopedic device manufacturing?
"You have to understand what that variation means," said Hampton. "I would try to perform a root cause analysis by going through and do something similar to what we do during continuous monitoring. Either we need to decide that that variation is acceptable or we need to change our parameters and reevaluate."
What sort of audits is Orchid Orthopedics subject to for process validation?
"We are audited yearly by BSI, we perform FDA (U.S. Food and Drug Administration) mock inspections, and we get customer audits," said Hampton.
BSI Group, known in Britain as the British Standards Institution, is a business standards company that helps clients comply with international standards as set forth by the International Organization for Standardization (styled ISO). BSI's U.S. headquarters are in Reston, Va.
"This constant state of auditing is helpful for us. It can be used as an improvement tool for our quality systems. We get insights and ideas for improving our process validation methodology," she said. "During customer audits, our clients will go through our process and look at our quality systems and review those from a validation standpoint. They would review our process validation procedures, policy, and compare it to what protocols we've validated in the past and see if those meet what we're saying that we do in our procedures."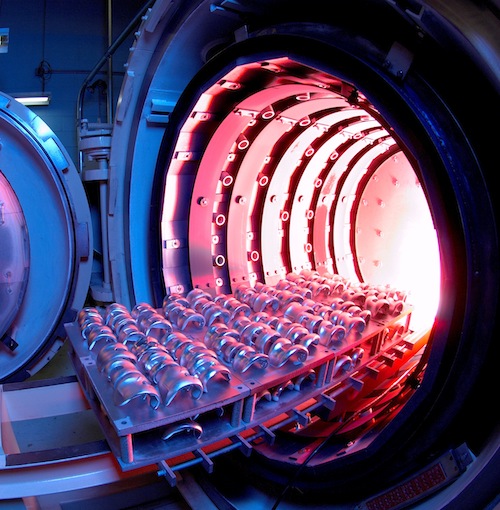 Device components being loaded into the coating oven at Orchid Orthopedics. Image courtesy of Orchid Orthopedics.
How do you approach new OEM clients?
"We do a lot of customer specific validation here," Hampton said. "Our first goal is to meet FDA requirements, but our overall goal is to meet out customer requirements. For instance, if they have a different type of packaging, we'll work with customers to make sure that it's validatable and that we can package that material.
"We have packaging engineers who also do some of the validation work. [Validation engineers] perform most of the process validation, but we also have packaging engineers who perform validations for sterilization and packaging.
"A lot of our customers will have their own standards and guidances. They're pretty up-front with what they're looking for, and we work with the customer to find a middle ground and come up with the best way to meet their standards and their requirements."
What are some unique challenges you as an orthopedic manufacturer face during process validation?
"We do a lot of implant coating," said Hampton. "If we get a new powder lot, we test it just to make sure there are no changes to that powder and we can still provide the same type of coating and it meets our standards.
"We have a procedure for if we have a problem with the raw material. We separate the lot if it doesn't meet our specifications, issue a CAPA (corrective and protective action) and investigate why there's variability. We have steps in place to make sure we don't use that lot."
For the full feature on process validation, please visit the September issue of Medical Product Outsourcing.